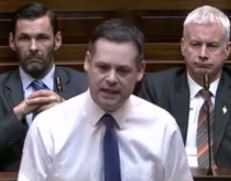 Donegal Deputy Pearse Doherty says the commitments to those in mortgage arrears in the Housing Action Plan published yesterday represent a major U-turn from the Programme for Government commitments.
In particular, Sinn Féin's Finance Spokesperson pointed to the dropping of a dedicated new court for arrears cases and a commitment to amend the Code of Conduct on Mortgage Arrears as examples of promises broken.
Deputy Doherty says while there was much to be welcomed in the Programme for Government's promises on mortgage arrears, many of those commitments have been watered down......