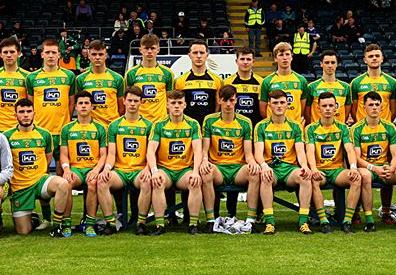 Ulster Final result: Donegal 2-10 (16) v 1-11 (14) Derry
Donegal minors won the Ulster Final today by beating defending champions Derry.
They won by two points, despite a lacklustre start that saw Derry knock in three points without response.
After eight minutes, it was Donegal 0-00 v 0-03 Derry.
That three point gap remained Derry's advantage for the first 20 minutes.
But JD Boyle's goal for Donegal on 21 minutes, equalised the game for the first time:  Donegal 1-01 (4) Derry 0-04 (4).
Donegal had the momentum and, at half-time, it was Donegal 1-04 (7) Derry 0-05 (5).
The second half was 12 minutes old when Nathan Boyle got Donegal's second goal to make it Donegal 2-06 (12) v 0-08 (8) Derry.
Derry pulled a goal back to reduce it to a two-point advantage for Donegal, but that was enough to clinch the game and make Donegal Ulster Minor Champions.