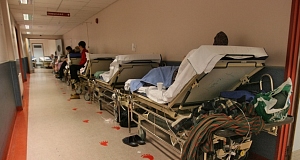 There has been a spike in the number of sick patients without a bed at Letterkenny University Hospital.
Figures from the INMO show this morning there were 6 patients on trolleys and 5 on wards awaiting a bed.
Nationally 344 patients are waiting for hospital beds today.
The INMO has also released trolley watch figures covering the first 6 months of 2016. They show that total of 557 patients were waiting on trolleys, chairs and additional bedding at the Letterkenny University Hospital's Emergency Department until the end of June.
The figures show a reduction in the overall overcrowding numbers compared to the same period last year.