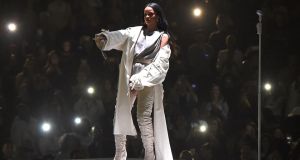 Rihanna enters the Aviva in the middle of the crowd, dressed in white robes like a slinky Jedi knight and high-fiving her way to a platform while rolling into Stay. The audience is at fever pitch, and by the time she's into Love the Way You Lie, tears are rolling down her cheeks and she's missing more than a few beats. It's a rare show of fragility amid a show built of bullet-proof confidence. But it's also a performance that's pulling in two directions.
One is towards global pop star, with all of its trappings. Stadium shows demand a live spectacle with explosions, set pieces and theatre on a grand scale. Rihanna delivers none of these things. The set up is straightforward: the lights are solid; the dance routines are slick; a backdrop towards the end for no reason turns into a curtain that occasionally drips with foam.
The other is towards a musical artist with a focused, concise idea of what she wants to achieve, and it's largely this that wins out.
Rihanna on stage is utterly mesmeric: as the show goes on - and she layers up with each costume change, ending the night in a powersuit of impressive 1980s proportions - the pop expectations wither and the artist wins out.
With a powerhouse nine-piece band she flits through her formidable back catalogue (that's eight albums at the age of 28). She arrives on the stage proper, via a floating perspex walkway, to a pristine white set-up as Bitch Better Have My Money thrums out from the stage. Like many of the standout bangers, it's worked lightly. A few verses and a handful of choruses and it's swiftly on to the next thing. It's a frustrating, if common hip hop approach. The breakneck pace packs almost 30 tracks into a tight hour and 20 minutes but it allows little room for momentum or build, or for that terrific band to explore her tracks.
The songs she does reserve space for are largely from Anti. Umbrella, for example, gets little more than a snatched verse and chorus, but Desperadogets the full treatment, blistering guitar solo and all.
Work, probably the most pop track from Anti, is again given shorter shrift, but Love on the Brain and Kiss It Better are given space to close out the set.
And yet throughout there is no doubting her exceptional musicality or the blinding wattage of her star power. A mid-set section turns things clubby through a rush of Drake tracks. Take Care slips into We Found Love, that's made dark and filthy to stunning effect, and then a too short but slick This is What You Came For.
Towards the end she graciously thanks everyone in her crew, and opens out a fully loaded version of Diamonds while half the crowd hold their phone lights up in the air. It a glorious pop moment in a show that's packed with potential, not all of which gets realised.
Irish Times