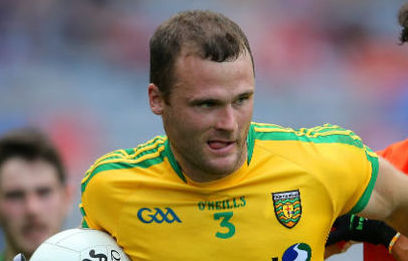 The Central Hearings Committee of the GAA have upheld the punishment handed out to Neil McGee after the Donegal Fermanagh game in the Ulster Championship.
The CCCC had given the Gweedore man a two game ban following his sending off in the first half in Ballybofey, an offence which carried an automatic one game suspension but it was doubled because it was ruled a repeat infraction.
At Tuesday nights appeal hearing, the CHC ruled in favour of the CCCC which means McGee will be missing from this Saturday's Ulster Semi Final against Monaghan in Cavan and the following game, should it be the Ulster Final or in round two of the qualifiers.
Croke Park confirmed the news in a statement this morning.
"In relation to the above game, An Lár Choiste Cheannais na gComórtaisí (Central Competitions Control Committee) instituted Disciplinary Action against Niall Mac Aoidh alleging a breach of 7.2 (b) Category III (i) T.O 2016, that is to say "Striking with arm".
The player in question requested a Hearing which took place on 21ú Meitheamh. An Lár Choiste Éisteachta (Central Hearings Committee) found the Infraction proven and as this was a repeat Infraction, imposed a Two Match Suspension in the same Code and at the same Level applicable to the next games in the combination of the National League / Inter-County Senior Championship, even if one or both occur(s) in the following year."