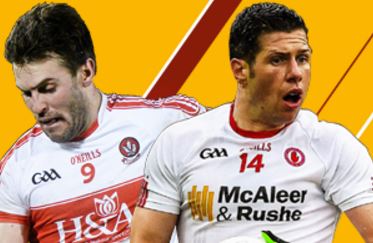 Ulster Championship quarter-final Derry result:  0-12  v  3-14  Tyrone
Tyrone beat local rivals Derry in the Ulster Championship on Sunday.
The match at Celtic Park in Derry ended with the scores heavily on Tyrone's favour.
The Red Hands blasted in three first half goals to make this quarter-final tie a foregone conclusion.
Tyrone now advance to the semi-final on June 19.
The winning Tyrone assistant manager Gavin Devlin said it was rainy and wet day but said Tyrone were ready for it...
Derry manager Damian Barton said the tie was over as soon as the third goal went in and left Derry fighting an uphill battle..