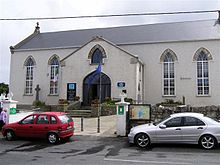 A doctor's wife was terrified of a man who admitted harassing her, a court was told.
Inspector Dennis Joyce told Dungloe District Court that Eimear McEniff was living an "ongoing nightmare."
Mrs McEniff at one stage saw stalker John McGrotty standing naked in his front room as she had to pass his house going to and from her own.
The court was told the McEniff family baby-sitter Anne O'Donnell also saw him naked in his front room.
A sign-language interpreter relayed the court proceedings to 65-year-old McGrotty who is deaf and unable to speak.
Garda Dermot Gallen, who took statements of complaint, told Judge Paul Kelly he could not say why McGrotty, of St Peter's Terrace, Chapel Road, Dungloe, was stalking the family.
The garda said: "He appeared to have a set on the McEniff family."
Judge Kelly heard that the stalking included throwing 20 rusty nails on the McEniff driveway with the result that Mrs McEniff's car was punctured three times.
McGrotty also sprayed Mrs McEniff's car through the windows with a lawn water hose as she passed with children inside.
Judge Kelly was told that following the original charges to which McGrotty pleaded guilty there were up to 35 instances of alleged harassment still being considered by the Director of Public Prosecutions and court action could follow.
Mrs McEniff and her husband, Dr Dara McEniff kept a log-book of incidents between July 11 and December 11, 2014.
Judge Kelly said "This family has suffered horrendously since July 2013 almost up to last October."
McGrotty admitted harassing and stalking Dara and Eimear McEniff and their family at Pairc Naomh Anna, Chapel Rd, Dungloe, between July 7, 2014 and December 11, 2014.
He also admitted harassing and stalking Eimear McEniff at St Peter's Tce between August 1, 2013, and July 24, 2014.
Judge Kelly said he was anxious to ensure the harassment wouldn't continue while he awaited a probation report and a victim impact statement.
McGrotty swore in the witness box through an interpreter that he had stopped the harassment. He said he wanted calm and a peaceful life.
The case was adjourned to September 13. Judge Kelly reminded McGrotty if he breached his oath he would be in contempt of court and could face extra punishment, which would be most likely custodial.