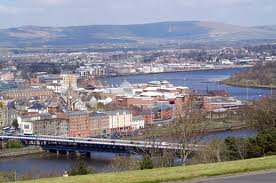 Calls have been made by residents in the Enagh/Strathfoyle, Eglinton, and Culmore areas of Derry to publish a Health Impact Study which was completed in March of last year.
The study was commissioned by Derry City Council to determine whether or not there is any evidence that the community's health and well being is being affected by their proximity to industrial sites.
Publication of the study has been delayed due to objections from the Port Authority.
Independent Candidate for Stormont, Doctor Anne McCloskey says the reports should be published without delay: