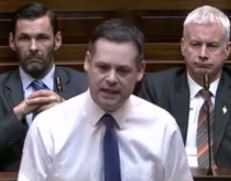 It has been revealed that just one house was built for social housing in Donegal last year down from 58 properties in 2011.
Figures obtained by Sinn Fein show that new builds for Local Authority Housing in the county have decreased year on year since.
At the end of 2015, there were over 2,560 applicants on the Local Authority's housing waiting list in Donegal.
Donegal Deputy Pearse Doherty so many families in Donegal are in crisis and something has to be done: