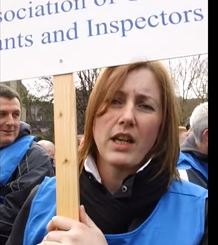 Nine out of ten mid ranking gardai want the AGSI to engage in a work to rule in support of their pay restoration claims.
And pay is the number one issue for 84 percent of garda sergeants and inspectors.
The AGSI is planning a massive march on the Dail when the new Government first sits, and say it could be in uniform, which would be unprecedented.
Also on the agenda is the closure of rural garda stations, an issue which emerged as a major election issue in Donegal earlier this year.
AGSI President-Elect Antoinette Cunningham says station closures are also contributing to a disconnect between gardai and rural communities, and she says that is a matter of serious concern...........