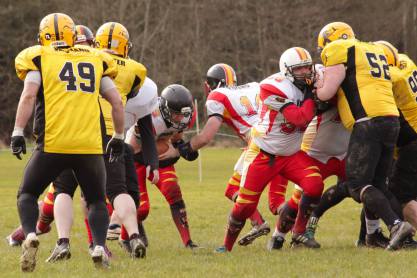 American Football kicks off again tomorrow with the Donegal-Derry Vipers (DDVs) returning to action for their second season in existence.
They were accepted in to the Irish American Football League (IAFL) last year and made their debut against local giants Belfast Trojans in Division 2.
Donegal-Derry Vipers (DDVs) are now getting ready to return to action and face the Razorbacks at home in Drumahoe, Derry, on Sunday with a 2pm kick-off.
The club, which was founded by Donegal men Cathal Curran and James Fox, plan on playing some of their home matches in Letterkenny this season.
Cathal, from Kildrum, told Saturday Sport that they are looking for a suitable pitch in Letterkenny.
He said there is growing local interest in the full-contact sport and urged sports fans to support them tomorrow…