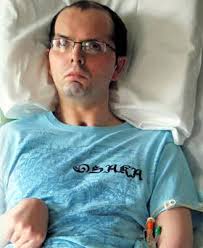 A 28-year-old man has appeared at Derry Magistrate's Court charged with the murder of Paul McCauley who died after a sectarian attack in July 2006 and the court wads told the main evidence was audio recordings.
Matthew Brian Gillen whose address was given as Kennedy Place in Derry was charged with murdering Mr. McCauley on June 6 last year, the day he died after spending nine years in a vegetative state following the attack during a barbecue in the Waterside area.
Gillen was also charged with inflicting grievous bodily harm with intent on another man injured in the attack and attempting to inflict GBH on a third man on July 16 2006.
There was a police presence in the court and when Gillen was being brought from the police van some abuse was shouted at him by members of the public.
A Detective Constable McLaughlin said he believed he could connect Gillen to the charges and opposed bail.
He said that Mr. McCauley was the victim of 'an unsanctioned UDA attack and that police believed that Gillen still had links to loyalist paramilitaries based on items found during a search of a house.
The officer also said that police feared there was 'a significant risk' of interference with witnesses as people were still reluctant to come forward.
The detective said that police also feared that Gillen could flee the jurisdiction as he worked for an international demolition firm and had opportunity to do so.
The court was told that police were also concerned about the address supplied by Gillen as he had not lived there for some time as this was a family address.
The officer referred to a 61-year-old man who has been charged with withholding information and said that this man was 'a close colleague' of Gillen. Defence barrister Mr. Sean Doherty said these were 'serious charges' but his client had denied them.
He said Gillen had originally been arrested in 2006 and released and since then there had been no attempt to interfere with witnesses.
He said Gillen had answered police bail.
As regards evidence in the case Mr. Doherty said they were audio recordings and that Gillen couldn't interfere with them as they came from his own mouth. Mr. Doherty suggested another address in the Waterside area. District Judge Barney McElholm said that people in the community 'knew very well' who carried out this attack and if they had not come forward by now they were unlikely to do so.
He released Gillen on a cash bail of £2,000, ordered him to surrender his passport, report to police three times a week and have no contact with his co-accused.
Gillen was also ordered not to leave the jurisdiction and reside at the address in the Waterside.The court was told that due to a mix up in the police station Gillen's passport had been given to another man being released. Judge McElholm said steps should be taken to retrieve the passport.Gillen will appear again on April 21.