Shares in Connemara Mining more than doubled yesterday after the company announced the results of a gold prospecting project in Donegal.
The company has announced that initial test drill results confirm the presence of significant grades of gold at the site on Inishowen, the company said.
It said the results suggest the site is similar to a prospect at Curraghinalt, Co Tyrone, where a multi-million ounce gold deposit has been reported.
Dalriadan Resources holds the licence for the Tyrone site.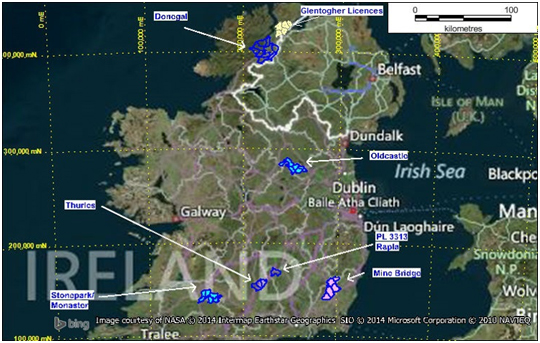 Official announcement -
Connemara Mining Company plc ("Connemara")
Gold Results, Inishowen Licences, Donegal
Highlights
§  Gold bearing veins discovered in each of three holes
§  5.8g/t Au over 3.05 metres from 23.05m (16-MR-03).
Connemara Mining (AIM: CON) is pleased to announce the results of a short-hole drilling programme on their gold licences in Inishowen, County Donegal.  The drill programme focused on gold bearing veins discovered in the 2015 trenching programme.  Drilling targeted the veins at depth and along strike to assess continuity and grade.  A total of 121m was drilled.  The best intercept was located in the third hole (16-MR-03), below a gold bearing trench, with 3.05 metre grading at 5.8g/t Au (grams per tonne), including a 0.65m interval at 11.31g/t Au and 0.39m at 26.07g/t Au. 
The Inishowen block contains 5 prospecting licences covering 187 sq km in an area surrounding Quigley's Point, County Donegal.  The main rock types present within this area of Donegal are schists, quartzites and granites with some sandstones. 
The first hole, 16-MR-01, was drilled at a dip of 45 degrees.  The second drill hole, 16-MR-02, steepened to 60 degrees to intercept the vein at depth and determine vein continuity.  The third drill hole, 16-MR-03, was located 100m southwest from 16-MR-01 and 20m back from the trench intercept at 45 degrees dip. 
16-MR-01 intercepted a 30cm quartz vein at 31.11m, grading 3.42g/t Au.  16-MR-02 intercepted the same vein again at 35.77m depth this time 123cm wide and then another vein at 39.60m measuring 68cm.  The first vein peaked at 36-36.2m with 0.69g/t Au and the second vein graded 0.1g/t Au at 39.6-39.8m.  Pyrite bearing mudstone in the hangingwall and footwall of each vein also contained anomalous gold grades up to 0.94g/t.
16-MR-03 located up dip from an anomalous trench, intercepted a 10cm vein at 7.67m grading 27.8g/t Au with an overall intercept of 0.5m at 5.65g/t Au.  The trench vein was then intercepted at 23.48m and measured 17cm with a grade of 42.5g/t Au.  Another vein closely followed at 25.5m measuring 39cm grading 44.8g/t Au in the top 20cm and6.35g/t Au in the lower 19cm.  An overall intercept of 3.05m at 5.8g/t Au was obtained.
Below is a table of results for each vein intersection.
Table 1 - Vein Intersection
| | | | | |
| --- | --- | --- | --- | --- |
| hole | from (m) | to (m) | width (m) | Gold (g/t) |
| 16-MR-01 | 30.71 | 31.71 | 1.00 | 1.3 |
| 16-MR-02 | 35.67 | 37.18 | 1.51 | 0.3 |
| 16-MR-02 | 39.40 | 40.90 | 1.50 | 0.23 |
| 16-MR-03 | 7.47 | 7.97 | 0.50 | 5.65 |
| 16-MR-03 | 23.05 | 26.10 | 3.05 | 5.8 |
| 16-MR-03 | 23.05 | 24.10 | 1.05 | 7.0 |
| 16-MR-03 | 25.10 | 26.10 | 1.00 | 10.3 |
The initial drill results have confirmed the presence of significant grades of gold in a multi-vein system within the Dalradian rocks of Inishowen, Co. Donegal, Ireland.  The setting is believed to be mesothermal, similar to that at Curraghinalt, County Tyrone where a multi-million ounce gold deposit has been reported.
It is proposed that additional drilling be conducted to determine how many veins are present and gain a clearer understanding of the grade.  Four drill holes positioned perpendicular to the vein strike should be completed within a 300 by 300 metre defined area to intercept all known veins.  Step out drilling is planned to be conducted to the east and west with possible holes to the north and south.  The first 4 drill holes would equate to 830m drilling with the step out drilling adding an additional 830m.
John Teeling, Chairman, commented "The drill results reported today though early stage are promising.  Multiple gold bearing veins have been intersected with one stretching over 3 metres at a gold grade of 5.8 grams per tonne.
There is now without doubt a gold bearing vein system in the Inishowen area of Donegal.
The discovery is similar to the Dalradian gold resource across the border in Co. Tyrone.
Further drilling is necessary."