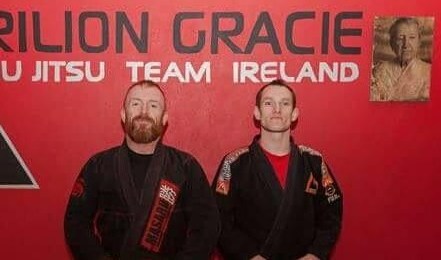 Convoy native, TJ McMenamin, won double European gold medal , in Brazilian Jiu Jitsu at the 2016 European IBJJF NO-GI Championships, which were held on Saturday the 3rd April 2016, at the Palazzetto dello Sport, Piazza Apollodoro in, Rome, Italy.
McMenamin took part in the Masters Blue Belt Division at Medium Heavy weight, and secured victory in the final, over Giorgio Gastaldi, a former European NO-GI Gold & Silver medalist, from Italy, by a points decision. Then later in the evening, he took part in the Open Weight competition, and secured victory in very close final, by a point decision, over Mike Tajik a Superheavy weight, from Sweden, whom is the reigning world masters champion, which he won at the IBJJF World Masters championships, last year in Las Vegas at Ultraheavy weight.
TJ, also won double gold medals, in the Rome International Open, two days previously , where he fought in the Masters blue belt GI, competition on Friday the 1st April, held at the same premises. He won his weight division by walkover, but took part in the open weight division, where he submitted the lightweight Marc Thompson, and again had met Mike Tajik in the final, where he secured a points victory over the Super heavy weight.
In 22nd January of this year, TJ previously won a European Bronze medal , in Lisbon, Portugal at the 2016 European IBJJF Championships(Kimono/Gi is worn).
On the 5th March, he secured Gold in his weight division and silver in the open weight division at the IBJJF London Winter International Open. A very busy & successful, last few months of competition to date.
Another Donegal competitor, Bryan Gorman from Donegal Town, also secured a European NO-GI, Silver medal in the Masters brown belt category, at medium heavy weight. Bryan runs, the DT fitness gym in Donegal Town.
TJ is a self employed Architect, with his business, MCM Associates, which is based in Raphoe, & he trains out of the Rilion Gracie BJJ Academy , the county's only full time Martial Arts gym, which is based in Old Town Letterkenny, which is run by Ramelton native, Brian "Barney" Coyle, whom himself secured a Gold Medal at the 2016 European IBJJF (Kimono is worn) championships, in Lisbon, at the start of the year, and also a bronze medal at the IBJJF World Masters in the Autumn of 2015.