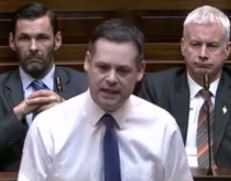 Donegal County Council has pledged that all information relating to the county's Fire Service, including charges and fees, will soon be made available online.
The decision comes following a request from Deputy Pearse Doherty to make the information publicly accessible and to ensure that all charges for services are transparent and publicly known.
The Chief Executive of Donegal County Council Seamus Neeley has confirmed this week that the authority will soon publish details of the various services provided by the county's Fire Service on its website.
The information was sought by Deputy Pearse Doherty, who says there is no set call-out fee or standard charge for the various services provided, with each local authority responsible for setting charges in their respective districts.
He says this means councils employ different criteria for charging service users, which can range from charging per hour, per fire fighter or per brigade to fees based on the time of day at which the call out occurs.
Deputy Doherty says the confusing nature of the charging system has led to people questioning the rates in the past. More worryingly, he has heard of instances of people, particularly older people, who delayed contacting the fire service because they feared high charges.
Fees can be reduced or waived for people on social welfare allowances, he says, but this isn't widely known.
Peasrse Doherty says it's in the interest of both the fire service and the general public that this information be more widely known, and that's why this Donegal County Council initiative is so important.