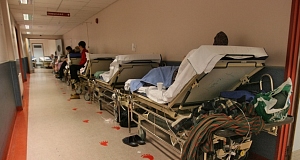 The INMO says agreement has been reached on the overcrowding crisis in Emergency Departments.
It's after talks resumed at the Workplace Relations Commission earlier.
Today, 23 people were on trolleys in Letterkenny University Hospital, 475 nationwide.
The INMO says the HSE and the Department of Health have confirmed that the deal agreed at previous talks will be fully implemented, including the hiring of more personnel.
The General Secretary of the INMO Liam Doran explains: