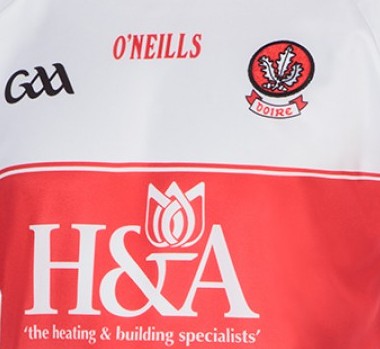 Derry boss Damian Barton has made four changes for Sunday's league game against Laois.
Thomas Mallon returns to goals while Christopher Bradley,  Benny Heron and Shane Heavron come into the forward lines.
Eoin McNicholl, Mark Craig, Ryan Bell and James Kielt make way.
Derry will be looking to put their promotion charge back on track after losing their last two games in Division Two.
The Derry senior football team to play Laois on Sunday at Portlaoise (2pm) is as follows:
1. Thomas Mallon (An Lúb)
2. Oisín Duffy (Forghleann)
3. Chrissy McKaigue (Capt) (Sleacht Néill)
4. Karl McKaigue (Sleacht Néill)
5. Gareth McKinless (Baile an Doire)
6. Brendan Rogers (Sleacht Néill)
7. Daniel Heavron (Machaire Fíolta)
8. Niall Holly (Eoghan Rua)
9. Emmett Bradley (Gleann)
10. Ciarán McFaul (Gleann)
11. Christopher Bradley (Sleacht Néill)
12. Benny Heron (Baile na Scrine)
13. Shane Heavron (Machaire Fíolta)
14. Emmett McGuckin (Machaire Fíolta)
15. Sean Leo Goldrick (Eoghan Rua