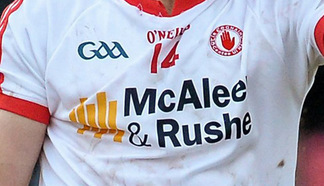 Tyrone are away to Galway on Sunday in Division Two of the Allianz League and they make four changes from the team that opened last weekend with a win over Cavan.
Niall Morgan returns in goal in place of Mickey O'Neill,
Ronan McNamee is named at full back; Padraig McNulty at midfield, and Darren McCurry at corner forward.
There's no place for either Sean Cavanagh or Peter Harte because of injury.
Mark Bradley, Cathal McShane and Lee Brennan also drop to the bench.
1 - Niall Morgan - Éadan na dTorc
2 - Aidan McCrory - Aireagal Chiaráin
3 - Ronan McNamee - Achadh Uí Aráin
4 - Cathal McCarron - An Droim Mór
5 - Rory Brennan - Trí Leac
6 - Justin McMahon - An Omaigh
7 - Tiernan McCann - Coill an Chlochair
8 - Colm Cavanagh - An Mhaigh
9 - Padraig McNulty - Dún Geanainn
10 - Niall Sludden - An Droim Mhór
11 - Matthew Donnelly - Trí Leac
12 - Conor Meyler - An Omaigh
13 - Darren McCurry - Éadan na dTorc
14 - Connor McAliskey - Cluain Eo
16 - Michael O'Neill - Cluain Eo
17 - Mark Bradley - Coill an Chlochair
18 - Lee Brennan - Trí Leac
19 - Conor Clarke - An Omaigh
20 - Pádraig Hampsey - Oileán a'Ghuail
21 - Hugh Pat McGeary - Cabhán a'Chaortainn
22 - Kieran McGeary - Cabhán a'Chaortainn
23 - Conall McCann - Coill an Chochair
24 - Cathal McShane - E R Uí Néill
25 - David Mulgrew - Ard Bó
26 - Barry Tierney - An Omaigh