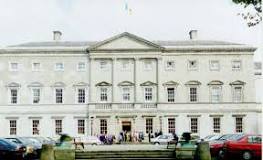 The Taoiseach is now expected to dissolve the Dáil tomorrow and call the general election.
The Taoiseach met Tánaiste Joan Burton this morning - and while ultimately the decision is entirely his, it's understood they've agreed the election will take place on Friday February 26th.
Effectively all that's left now is for Mr Kenny to travel to Aras an Uachtarain and seek the dissolution of the 31st Dáil - but he's not now expected to do that until tomorrow.
It's understood part of the reasoning is to allow for discussion at the Public Accounts Committee and in the Dáil chamber itself today on the issue of alleged abuse at a foster home in the South East.
Also this evening the first exchequer returns for 2016 will be published, which the Government parties will no doubt use to say their recovery plan is working.
Tonight Enda Kenny's to address the Fine Gael Parliamentary Party and tomorrow will fire the starting gun on the election.
The election will see Donegal move from being two three seater constituencies to one five seater, with part of the south of the county, including Balyshannon and Bundoran, moving into Sligo/Leitrim.