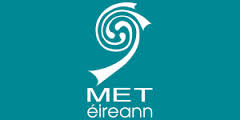 Met Eireann is playing down the latest storm to be included in the new naming system.
Storm Henry is making landfall over the next 24 hours and is bringing winds of up to 110 kilometers per hour with it.
An orange warning's in place for Donegal, Galway, Leitrim, Mayo, Sligo, Clare, Cork, Kerry and Limerick from 10 o'clock tonight.
Forecaster Harm Luijkx says it shouldn't cause too much bother............