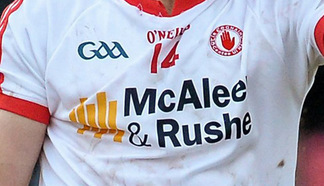 Mickey Harte has made thirteen  changes from the team that defeated Fermanagh last Sunday for Saturday's Dr McKenna Cup Final against Derry.
The only two players to retain their positions are Cathal McCarron and Colm Cavanagh.
There will be first McKenna Cup Final appearances for Hugh Pat McGeary, Harry Og Conlon, Cathal McShane, Lee Brennan and Patrick Quinn whileTiernan McCann comes in to make his first appearance of the year.
This is the 12th McKenna Cup Final of Mickey Harte's reign as the O'Neill County look to win the competition for the fifth year in a row.
1 - Niall Morgan - Éadan na dTorc
2 - Cathal McCarron - An Droim Mhór
3 - Ronan McNamee - Achadh Uí Aráin
4 - Hugh Pat McGeary - Cabhán a'Chaortainn
5 - Tiernan McCann - Coill an Chochair
6 - Justin McMahon - An Omaigh
7 - Barry Tierney - An Omaigh
8 - Colm Cavanagh - An Mhaigh
9 - Conor Clarke - An Omaigh
10 - Harry Óg Conlon - Éadan na dTorc
11 - Mattie Donnelly - Trí Leac
12 - Cathal McShane - E R Uí Néill
13 - Lee Brennan - Trí Leac
14 - Ronan O'Neill - An Omaigh
15 - Patrick Quinn - Dún Geanainn
16 - Michael O'Neill - Cluain Eo
17 - Mark Bradley - Coill an Chlochair
18 - Sean Cavanagh - An Mhaigh
19 - Pádraig Hampsey - Oileán a'Ghuail
20 - Connor McAliskey - Cluain Eo
21 - Conall McCann - Coill an Chochair
22 - Darren McCurry - Éadan na dTorc
23 - Padraig McNulty - Dún Geanainn
24 - Jonathan Monroe - An Charraig Mhór
25 - Conor Meyler - An Omaigh
26 - Niall Sludden - An Droim Mhór
27 - Kieran McGeary - Cabhán
28 - David Mulgrew - Ard Bó