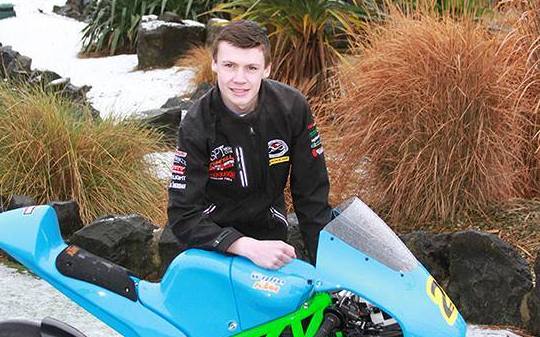 After a year's baptism in the British Moto3 Championship, Kilmacrennan's Richard Kerr, is aiming to step up a level in 2016.
The 15 year old has just received a timely boost ahead of this years campaign, with his loyal sponsor, Bob Wylie supplying him with one of the latest ex works KTM machines.
Wylie, will again run Kerr and Antrim's Christain Elkin in his blue and white liveried bikes.
For this season, Kerr will have the use of a very special machine, an ex Grand Prix machine in the form of a 2015 KTM RC250 MOTO3 as ridden by Jakub Kornfeil who finished 12th in the world championship, and scored a second place at the British Grand Prix at Silverstone.
The team have also joined forces with Red Line Racing, headed by Nick Carpenter, who masterminded Scott Deroue on his way to the 2015 British Championship victory. Carpenter also worked with Christain Elkin, when Elkin gave Carpenter his first Championship title riding for Team UK 1.
Last year was a learning curve for former Irish Moto3 champion Kerr, but with sheer determination and on a bike which was visibly down on speed, he rode with the skill of a champion, taking a personal best of third at Cadwell Park, and 9th at Knockhill.
Richard feels that he has served his apprenticeship on the British Championship circuits, and feels, that with the right machinery and set up, he hopes to be able to make inroads on the top six riders and has set a personal goal of podium places.
"I'm really looking forward to the season ahead, My aim is to be running at the front and hopefully get podiums and maybe win races. It won't be easy, there is a lot of quick guys my age and older, all with same frame of mind. I need to be giving 100percent all the time with myself and when I am riding the bike, I have been training hard over the winter, mountain biking, pit bike racing, etc."
"Im grateful to Bob for believing in me, and continuing his much valued support and also all my sponsors as without their support I would not be able to continue racing in the British Championship. The new KTM will be a new challenge for me,I know what the bike is capable of , so if the bike is running how it should be, then it's down to me, the rider . "My main target is to win a race this season"
Bob Wylie; Team Manager/Owner said "Its great to have two riders who appreciate my support, Christain will continue to race the Triumph in all Irish championship short circuits and selected roads, and Richard, will have the use of an ex works KTM for the British Moto 3 Championship, Richard is a quality rider, and I just want to give him the best equipment possible. Richard has shown exceptional maturity for a rider of his age, and I believe he has the talent to go far, that's why I have got him this special machine".
Both riders will be in action at Bishopscourt and Kirkistown for the Easter weekend meeting's, Kerr's first outing in the British Championships, will be at Silverstone 8/10th April.
Richard would like to thank to all of his sponsors, Bob Wylie, Lennon Logistics, Amanda Sheridan, Motoworld, Huey Brakelines, DS Environmental Services, K&F Superwools, Highland Motors, Ferguson Fuels, Micad Security, Campsie Karting, Laverty Mobile Catering and Spy Night Club.