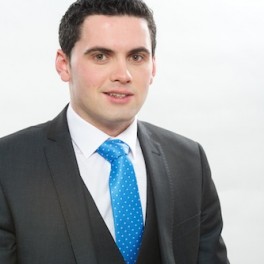 Councillor John O'Donnell's attendance at yesterday's Municipal district meeting has been met with mixed reaction from his fellow Councillors.
Yesterday when Councillor Dessie Sheils was made aware of Cllr O'Donnell's presence, he withdrew his motions and walked out of the meeting.
However Cllr. James Pat McDaid says opinion aside, Councillors are obliged to work for the people they represent.............
Meanwhile, Cllr Frank Mc Brearty, the Chair of the Stranorlar Municipal District says he will resign from the Independent grouping on Donegal County Council if Cllr O'Donnell has not been expelled from it by midnight tomorrow.
In a letter to group Chairperson Cllr Michael Mc Bride, Cllr Mc Brearty says he has taken whjat he termed "appropriate legal actions" against Cllr O'Donnell, but he is not comfortable about working with him as part of the Independent grouping.
It would, he concludes, be a slap in the face to the electorate to continue to do so.
Cllr Mc Brearty's e-mail as sent on Tuesday evening January 12th -
FAO the Chairman of the Independent grouping on Donegal Co Co.
Dear Michael
 I am writing you this email to request the following from our grouping on the Council.
1. That we expell Cllr John O'Donnell from our grouping with immediate effect.
2. That we expell him from all the committees given to him under the all inclusive deal agreed by all the political groupings on Council.
If the Independent grouping do not take the action requested by me above, in 1 & 2 within the next 48 hours from midnight tonight I will have no choice but to resign from the  independent group on the the council. I do not want to do this but feel the others in the grouping are forcing my hand by not supporting my position on Cllr O'Donnell. To make things clear to the other independent members, Cllr O'Donnell brought everyone  of our names into disrupt when he clearly said in the RTE prime time special programme that he could get 25 to 30 members to support him. I have taken the appropriate  legal actions against Cllr O'Donnell  but I am not comfortable  working with him as part of our grouping and feel it is a slap in the face to the people who elected us to continue to do so.
Can you also ask Cllr Seamus O'Domhnaill why he did not inform us at the special meeting concerning Cllr John O'Donnell  of the LAMA special meeting in Tralee, as he is our representative on it.
Yours Faithfully
Cllr Frank McBrearty Jnr Chairman of the Stranorlar MD & member of the CPG.