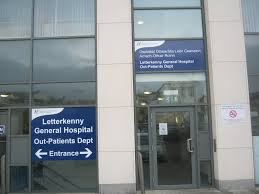 It's emerged that Letterkenny University Hospital is referring hundreds of patients to Dublin for out patient appointments, sometimes at very short notice.
It's part of a new outsourcing initiative to cut waiting lists.
According to the Irish Times, the outsourcing of waiting lists from Letterkenny University Hospital to Dublin has angered local GPs, who say frail patients have been given as little as 24 hours' notice of appointments hundreds of miles from their homes.
One GP told the paper that more than a dozen of his patients had been forced to travel, many of them were for routine tests that could be performed closer to home.
"Can you imagine the uproar if people in Donnybrook who were in their 70s and 80s were told to travel up to six hours for an appointment in Donegal?" he asked.
The Saolta hospital group has confirmed that Letterkenny University Hospital has outsourced appointments in respiratory medicine, general medicine and orthopaedics to Dublin hospitals.
Asked about the lack of notice given to patients, a spokesperson said the notification period was determined by the process involved in clarifying the availability of local capacity, confirming availability in Dublin hospitals and contacting patients.
It comes as Deputy Pearse Doherty says he's been told by the HSE that 5,500 patients currently waiting six months or longer to be seen by a Consultant at the hospital, a third of whom have been waiting for a year or more, while 331 patients in total have been waiting for more than the maximum allowable waiting time of 15 months.