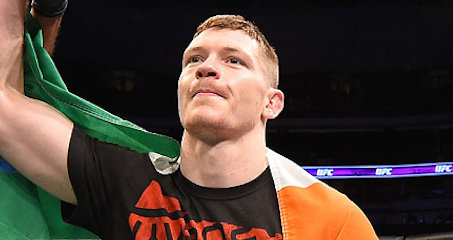 Donegal's Joseph Duffy returns to the Octagon on Saturday night when he takes on Dustin Poirier in a lightweight contest.
The fight on the prelim card of UFC 195 will be Duffy's first in Las Vegas.
This is the second date for Irish Joe and the Diamond to do battle after the original October fight in Dublin had to be pulled due to Duffy suffering concussion in training.
Speaking to Severe MMA Joseph says he's grateful that UFC kept the matchup after his forced withdrawal in Dublin.
"Thank God, it wasn't too long after Dublin that we got everything lined up again. I was able to get back to Tristar and put some serious work in, but it was good that we got the new date sorted because it gave me something to focus on. It was the boot up the ass that I needed to get straight back into the gym because I had something to aim for again.
Duffy goes to the MGM Grand having won his two UFC fights to date in the first round while Poirier has switch from featherweight to light this year.
The Donegal man added a win on Saturday will take him to the next level.
"If this fight goes well I'll be looking to get into the mix with the top ten in the division. If that's the case I will want to take some time to enjoy myself and work on my game. I feel like I've been in fight camp for a full year. Even though it's only been two fights, I pretty much spent the whole year training for fights."
"I would really like to take my game to the next level after this fight, so I'd like to take a bit more time to get myself up to that next notch and then I'll go from there."