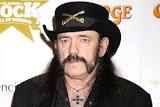 A host of celebrities have paid tribute to Motorhead frontman Lemmy, following his death aged 70.
The rock star, whose real name was Ian Kilmister, died just days after celebrating his birthday – following a short battle with an "extremely aggressive cancer".
He had only received the shock diagnosis on Boxing Day, the band explained.
American Idols' Danny Rose Murillo wrote a touching message on Instagram: "Lemmy was one of my heroes growing up because he shredded the bass/vocals and was a true badass and a real legend. We used to try and sing his songs without coughing and couldn't do it. Haha. These kind of rockers are hard to come by nowadays. Such an amazing songwriter #motorhead #rip #longlife."