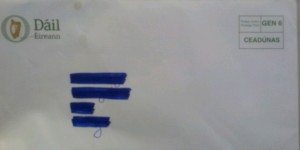 Its been claimed this morning that a number of people have received Christmas cards from Fianna Fail election candidate and former Junior Minister Pat the Cope Gallagher in prepaid Oireachtas envelopes.
The claim has been made by Independent Councillor John Campbell, who says he's been contacted by a number of constituents.
He says his understanding is that these envelopes are for the exclusive use of members of the Oireachtas to communicate with constituents about official business.
He says he has advised those who have been in contact with me to make a formal complaint to the clerk of the Dail and Seanad.
Mr Gallagher told Highland Radio News this morning that he was unaware of Oireachtas envelopes being used to send his cards, and if that has happened, it was inadvertent.
Cllr Campbell says there are questions to be answered.......