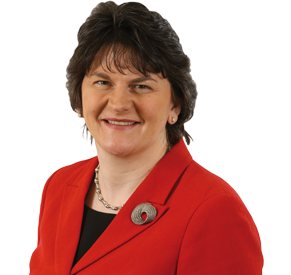 Arlene Foster's been formally elected as leader of the Democratic Unionist Party.
She'll also become the first woman to lead Northern Ireland when she takes on the role of First Minister next month.
Ms Foster, a 45 year old native of Rosslea in Fermanagh, replaces Peter Robinson who stepped down as DUP leader for health reasons.
She's been an MLA for Fermanagh South Tyrone since 2003. Having been initially elected as an Ulster Unionist, she resigned from that party and joined the DUP the following year.
She is currently the Finance Minister in Stormont, and has twice served as Acting First Minister.
In a speech after her confirmation as DUP leader last night, she set out her stall.........
The Sinn Fein leader Gerry Adams has welcomed the election of a woman to the position of leader of a party in Northern Ireland.
He says says although the DUP has a new leader, the same political commitments must be fulfilled in Stormont's Power Sharing Executive..........