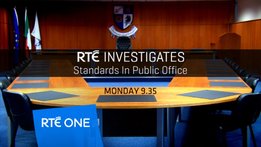 There have been calls for the resignation of Donegal County Councillor John O'Donnell following the RTE Investigates programme on planning matters last night.
Councillor O'Donnell was one of three politicians who featured on the programme, offering to lobby on behalf of a fictitious wind farm company in exchange for money or the promise of a loan or an investment in a private business, according to RTÉ.
Cllr John O'Donnell says he is now taking legal advice, and is stressing he has always complied with his responsibilities under ethics legislation.
His resignation is being sought by Councillors Michael Cholm Mac Giolla Easbuig and John Campbell. Cllr Campbell says Cllr O'Donnell has compromised the integrity of the Council........
Sinn Fein have also called for Cllr O'Donnell's resignation, as has Cllr Michael Cholm Mac Giollaeasbuig, both of whom are also focussing on Cllr O'Donnell's claim on the programme that he has influence over a majority of council members.
Cllr Mac Giolleasbuig believes he should name names............