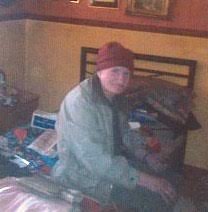 A second day of a volunteer foot search for missing Derry man John Concanon got underway today.
The 71 year old has been missing since Tuesday 10th November.
Mr John Concannon was last seen on the Lenamore Road getting off a bus.
It's believed Mr. Concannon, who suffers from dementia, took the wrong bus from Derry City Centre.
Yesterday, it was estimated that approximately 100 people took part in the search.
Both Gardai in Donegal and the PSNI in Derry with and an underwater search team along with volunteers have already carried out extensive searches on both sides of the border.
So far, there have been no sightings of John Concannon.
Police are once again  asking anyone who has seen Mr Concannon to get in touch with them at Strand Road station, or call Gardaí if he has been seen in Donegal.
He is described as being about 5'6″ tall, of medium build and with grey hair. He was wearing a black and grey beanie hat, a black coat, checked shirt and navy trousers.