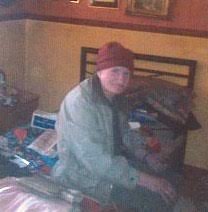 A cross border search is underway to try to locate a missing Derry man.
Mr John Concannon, who is 71, has not been seen since Tuesday evening.
Volunteers from a Community Search and Rescue Team have today joined enquires to try to locate John Concannon who was last seen on Tuesday evening in Derry City centre.
Following a possible sighting of a man answering his description in the Bridgend area, the team will also be searching in Donegal.
Mr Concannon is known to have family connections with the Burt area.
Police are asking anyone who has seen Mr Concannon to get in touch with them at Strand Road station, or call Gardaí if he has been seen in Donegal.
He is described as being about 5'6" tall, of medium build and with grey hair. He was wearing a black and grey beanie hat, a black coat, checked shirt and navy trousers.
Mr Concannon has medical conditions which cause extra concern for his wellbeing.