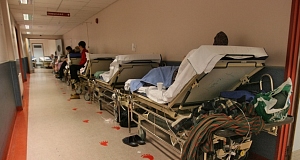 13 people are in wards or on trolleys awaiting a bed at Letterkenny General Hospital today.
The number was confirmed on the day it was announceed that 10 additional beds are to be provided at the hospital to help alleviate overcrowding in its Emergency Department.
The HSE says 400 extra beds will be opened at hospitals across the country before the end of the year.
Liam Doran, Head of the INMO says it's not yet clear when Letterkenny General is to receive the new beds: