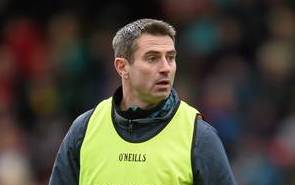 Donegal's senior football team manager Rory Gallagher has issued a statement in response to comments made by former team All-Ireland winning Donegal manager Jim McGuinness following the publication this week of his book "Until Victory Always."
Gallagher stated: "I have received many requests for my reaction to the description given by Jim Mc Guinness in his book with regard to my departure from the Donegal Senior Management Team in September 2013."
Gallagher said that he is not interested in commenting on what he terms are the " inaccuracies in the book" while he is involved with the current Donegal senior football team.
In the book, McGuinness recalls how in September 2013, he informed the County Board of his intention to make changes to his backroom team.
Donegal had failed to retain the Sam Maguire cup following the heroics of the previous year.
Rory Gallagher, Maxi Curran and Francie Friel all departed.
McGuinness says he has not spoken to Gallagher since.
In the book, McGuinness says: "It was one of those things; it was a break-up. It's a relationship and we had fantastic times and unbelievable experiences together. But these things happen in sport and in life."
Responding, Gallagher, in his statement, said: "I am comfortable in the knowledge that Donegal County Board officers are aware of the true circumstances of my departure."
He continued: "I will say I am disappointed Jim has chosen to comment on the breakup of the management
team at this point. The players, management and backroom team had a very clear understanding that what happened within the group remained within the group.
"Following my departure I did not comment on the matter as this would have been unfair on the players and the new management team whose focus was on the year ahead. I am really looking forward to the new season working with a brilliant squad of players who have given Donegal so much over the last five years.
"The management, players and the County Board will be doing everything in our power to achieve success again for Donegal in 2016," he concluded.