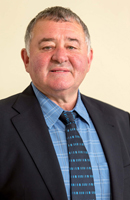 Gardai and the Health and Safety Authority are investigating the death of one of Donegal's best known car dealers in an industrial accident.
Dan Mc Ginty, owner of DMG Motors in Donegal Town, died yeseterday after falling at the Clar Road premises. He was rushed to Letterkenny General Hospital by ambulance, but was pronounced dead on arrival.
Independent Councillor Tom Conaghan is based in Donegal Town ; he says Dan Mc Ginty was one of the areas best known and most respected business people............