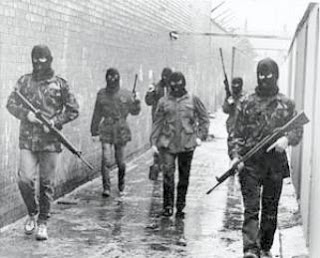 A report into paramilitary activity is due to be released in the North today.
The independent review looked at the level of activity among armed groups.
It comes as a 47 year old man's still being questioned in connection with the murder of Kevin McGuigan.
The 53 year old was shot dead in Belfast in August sparking a major political crisis at Stormont.
Northern Secretary Theresa Villiers commissioned the three person independent panel to assess the level of activity by armed groups in Northern Ireland.
That was in response to the police chief's view on the involvement of the IRA in Mr McGuigan's murder.
But speaking at an event in Strabane last night, Gerry Adams warned Sinn Fein will not tolerate any undermining of the rights of people who vote for his party.
Meanwhile, loyalist paramilitaries came together last week to sign up to a new community council and say they're rejecting all violence and criminality.