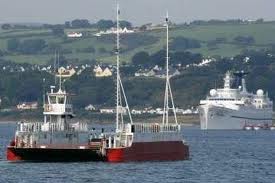 The owner of the Lough Foyle Ferry has confirmed to Highland Radio News that the boat has been put on the market, and there has been interest from prospective buyers.
Jim Mc Clennaghan was speaking after the prospective sale of the boat was raised at a recent meeting of councillors from Inishowen, at which fear was expressed for the future of the service, which has now ceased for the winter.
The Derry Journal this morning quotes figures it has obtained showing a drop in vehicle traffic using the ferry each year from 110,000 to 32,000 between 2003 and 2014. The number of passengers also fell, with 328,000 using the service in 2003, compared to 94,000 last year.
Councillors are to seek a briefing with Jim Mc Clenaghan to see what the current situation is, but hje told Highland Radio News this morning that so far, has had no contact from the authority.