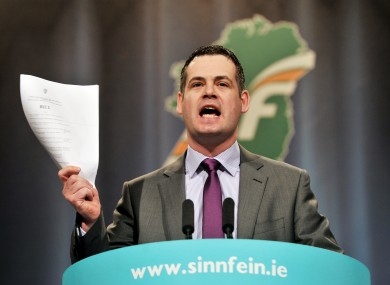 Sinn Fein TD Pearse Doherty has admitted that the decision to run a third candidate in Donegal could jeapordise either his or Deputy Padraig Mac Lochlainn's seat.
It's emerged that Sunday November 8th is the most likely date for the Sinn Fein selection convention in Donegal following the decision of the party's Ard Comhairle at the weekend to approve a three candidate strategy.
Both Pearse Doherty and Padraig Mc Lochlainn backed the proposal, with Stranorlar area councillor Gary Doherty, the only person to have openly declared an interest.
Deputy Pearse Doherty believes securing three seats is possible, but acknowledges the strategy could be a risky one.
He says while convention will be open to everyone, Cllr Gary Doherty is an obvious choice..........