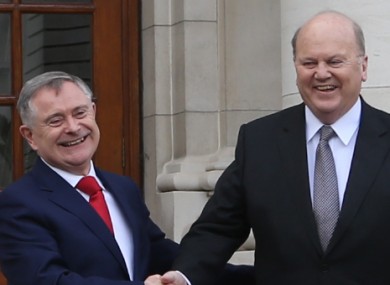 Donegal politicians have been reacting to Budget 2016.
The coalition's targeted families and workers in its final budget before the general election.
From tax cuts to childcare, no increase in the property tax and free doctor visits to under 12's, everyone gains except smokers who are hit with a 50 cent hike from midnight last night.
However there have been concerns from opposition parties that issues such as the housing situation which some have described it at crisis level in Donegal have not been addressed.
Minister Joe McHugh says we simply can't go back to 'boom - bust politics'............
Fianna Fail Education Spokesperson Donegal Deputy Charlie McConalogue claims smaller schools in Donegal will continue to suffer in Budget 2016.
Among the proposals is the creation of 2,260 new teaching posts in the next year, which includes 600 additional resource teaching positions.
Over €30m will used to make pre-school facilities more accessible for children who special needs while funding will also be provided for after-school services through schools who want to avail of it.
Deputy McConalogue says while large schools may benefit, a vast amount of Donegal schools will not................
A Donegal Deputy says Gardai who are due to retire in the coming year will counteract the Governments Garda recruitment plans in the Budget.
Yesterday Minister Micheal Noonan announced there will be an extra 600 Gardai recruited in 2016.
Sinn Fein Justice Spokesperson Pádraig Mac Lochlainn claims the plan will do nothing to bring Garda staffing levels up to standard they need to be at.............