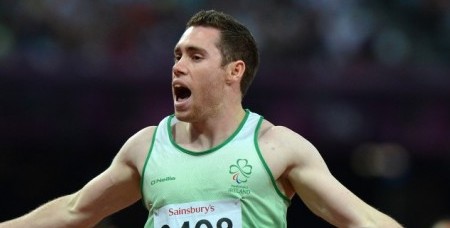 Derry's Jason Smyth will head a nine strong Irish team at the upcoming IPC Paralympic Athletics World Championships which are set to take place in Doha, Qatar from October 22nd – 31st.
The team comprises of three male and six female athletes and features reigning double Paralympic champions Smyth and Michael McKillop, in addition to London 2012 Paralympic medallist thrower Orla Barry.
This trio are joined by three time Paralympian and wheelchair racer at 100m & 400m John McCarthy. Five more female field athletes complete the team; Deirdre Mongan who debuted at the 2013 World Championships, alongside Noelle Lenihan, Niamh McCarthy, Lorraine Regan and Hayley Fitzsimons; all four competing in their first ever World Championships.
Double Paralympic gold medallist from London 2012 and Beijing 2008 Smyth will only compete in the 100m at Doha having just resumed racing following a long recovery from knee surgery in the early part of the year.
Speaking at the announcement Smyth said; "It's great to be back on the track and feeling in good shape heading into the Worlds. It's been a long year rehabilitating from surgery so I'm hoping I can end it on a high. I realised last year I have got to be one hundred percent, I can't be running at ninety or even ninety five percent and apply maximum force so I've spent a lot of time getting over those injury problems and now it's a case of continuing to put in the work and building on it over the next few months."