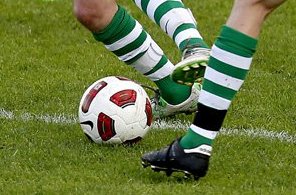 The Ulster Senior League's hopes of retaining the Michael Ward Inter-provincial Cup ended on Saturday losing 3-2 to Connacht in Ballbriggan, Dublin.
It was their second defeat in the tournament having lost to Munster on Friday night.
Ulster lead 2-0 early in the game with goals from Chris Mc Laughlin and Lawerence Toland.
Connacht pulled a goal back on 27 minutes through Joe Lawless and piled the pressure on Donal O'Brien's side in the second half.
Four minutes from time Des Hope leveled the game for the Westerners as Ethan Keogh netted the winner in the 90th.
Munster beat Leinster 1-0 and need just a point against Connacht on Sunday to win the cup.
Ulster finish their tournament on Sunday against Leinster.