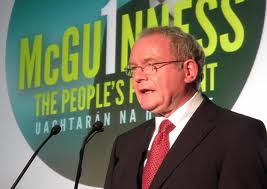 Senior NAMA executives will face questions from the Public Accounts Committee today about the controversial sale of the agency's Northern loan book.
The 1-point-6 billion euro sale has been the focus of intense scrutiny on both sides of the border in recent weeks - and members of the Northern Assembly's Finance Committee are also expected to attend today's hearing.
Last night, the Department of Finance released 41 files - which show that Deputy First Minister Martin McGuinness was included in a conference call about the sale - which he had previously claimed he was 'kept in the dark' about.
PAC Chairman John McGuinness says full accountability is needed from NAMA to restore public confidence..................