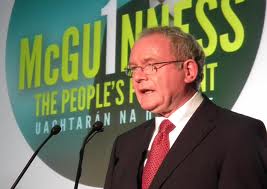 The North's Deputy First Minister says substantial progress on the A5 will be a 'red line' issue for Sinn Fein when it comes to agreeing a future programme for government at Stormont.
Martin Mc Guinness told a public meeting in Derry last night that while legal issues have severely delayed the A5, there is a perception that former minister Danny Kennedy and his Ulster Unionist colleagues have been blocking political progress.
Speaking to Greg Hughes on today's Shaun Doherty Show, Martin Mc Guinness said the priority must be to call a new public enquiry as quickly as possible................