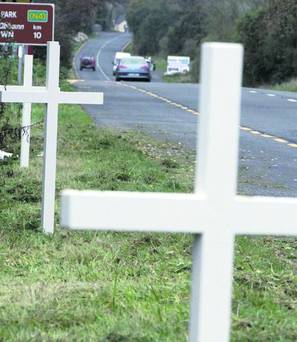 (Pic: Independent.ie)
A community which has campaigned for decades for the upgrade of a road known as the most dangerous stretch in Ireland is welcoming the news that the road is to be upgraded.
30 white crosses - each one marking a life lost - line the stretch on the N4 between Castlebaldwin and Collooney in Sligo.
It's also the main road people use in south Donegal to travel to Dublin.
Yesterday 102 million euro was included in the Government's Capital Funding plan for the upgrade of the road which will include a dual carriageway, six roundabouts, four road overbridges and a number of new side roads.
Bernard Mulhern of the N4 Action Group says there have been many calls over the years for the urgent upgrade of this stretch of road: