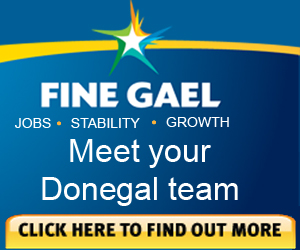 Junior Gaeltacht Minister Joe Mc Hugh was the sole candidate chosen by Fine Gael to contest the next general election at the party's selection convention in Letterkenny this evening.
The convention in Letterkenny had two nominations, Minister Mc Hugh and Cllr John Ryan.
Cllr Ryan addressed the gathering at the offset and announced he was withdrawing from the race, leaving Minister Mc Hugh the sole candidate. A directive from Party Headquarters was then read to the meeting by Chairman Deputy Frank Feighan, ordering that one candidate be chosen, with a second to be added by HQ at a later date.
Minister Mc Hugh was then selected unopposed.
Speaking to Highland Radio News, he acknowledged there is a hard contest ahead.......
A recurring theme of the meeting is that Fine Gael is seeking two seats in the next election, and not just one.
However, in his speech withdrawing from the race, Cllr John Ryan sounded a more sombre tone, reflecting on the difficult campaign ahead.
He said in the 2011 General Election, he secured nearly 5000 votes in a three week campaign, but also noted he did not received full support from everyone in the party, and that the campaign had taken a huge toll on his business and family life.
Nonetheless, he said, withdrawing from the race was a difficult decision.............