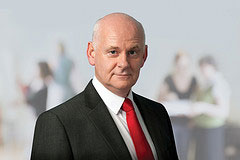 The Labour Senator Jimmy Harte has resigned from the Seanad.
Mr Harte was seriously injured in a fall at the end of 2013.
On November 16th 2013, Senator Harte was found unconscious close to his Dublin apartment in the Newmarket Square area of Dublin 8 with life-threatening head injuries caused by a "tragic fall."
Jimmy Harte is the son of former Fine Gael TD Paddy Harte and left the party and was an Independent before joining Labour.
Leader of the Seanad Maurice Cummis says he wishes Jimmy Harte well in retirement: