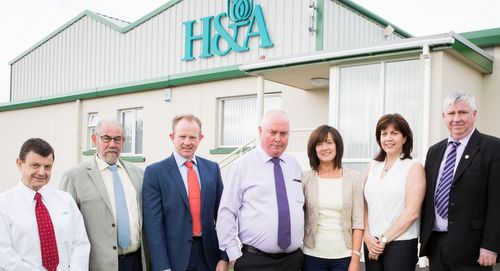 Derry GAA have announced a new three year sponsorship deal with H&A Mechanical Services.
Established in 1993 by Hugh and Anne McWilliams, H&A have grown from a payroll of six people to an employee base of over three-hundred people in recent times.
The new deal will see the local company sponsor Derry inter-county football and hurling teams at minor, u21 and senior levels.
Derry County Chairperson, Brian Smith, welcomed the deal, saying:
"We are uniquely fortunate in Derry to have the backing of successful indigenous companies such as Specialist Joinery Group and H&A Mechanical Services, and others.
"Sponsorship arrangements are by definition commercial. However, we believe that the commitment of these two family-run companies to our local community, as demonstrated over many years, strongly reflects the ethos and ideals of Derry GAA, and sets them apart from being purely commercial in nature.
"We want to sincerely thank John Bosco O'Hagan and everyone at Specialist Joinery Group for their generous and unwavering support over the past three and a half years. They are a dynamic, forward-looking and exciting company and we wish them every success in their future endeavours.
Hugh and Anne McWilliams, directors of H&A Mechanical Services Ltd have expressed their honour at being the new sponsors of Derry GAA, saying:
"We are delighted at this opportunity and look forward to working with the Derry County Board Executive during this sponsor term."
Photo - Hugh and Anne McWillliams (centre) and senior H&A company representatives join with Derry county chairman, Brian Smith, and secretary Danny Scullion.