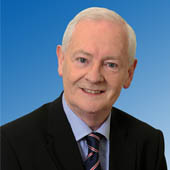 Tributes are being paid to Fine Gael Deputy Dinny McGinley, who has confirmed he will not be standing in the next General Election.
Both The Taoiseach, Enda Kenny and Gaeltacht Minister Joe McHugh have expressed their high regard for the TD.
In a statement, Taoiseach and leader of the Fine Gael Party, Enda Kenny said Dinny's decision to stand down at the end of this Dáil term represents the end of an era in Donegal politics.
Dinny has represented the people of Donegal South-West for 33 consecutive years as a TD.
Mr. Kenny said he worked closely him during that time and witnessed at first-hand his hard work and commitment to the people the people of his constituency.
He further stated that he was honoured to appoint Dinny as Minister of State for Gaeltacht Affairs, a role he served with distinction.
Meanwhile Junior Gaeltacht Minister Joe McHugh said the commitment and dedication Dinny has shown to his constituents, the Irish language and the Fine Gael party was unwavering throughout his time as a TD and Minister.
Minister McHugh further stated that for over a decade, between 1997 and 2007, Donegal North East did not have a Fine Gael representative and during this period, Dinny effectively represented the whole of Donegal, working on behalf of both constituencies within the County.
He concluded by saying Dinny Mc Ginley will be will be remembered in history as being one of the greatest speakers of the Irish language.