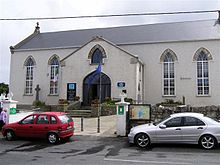 A judge has ordered the destruction of a felling axe held to an animal lover's neck when she was searching for a lost dog.
The order to destroy the axe with a metre-long handle was granted to the prosecution at Dungloe District Court which heard the 15-centimetre blade left a scrape up to three inches long on the neck of Ann Marie Devine.
Ms Devine runs the Burtonport Animal Rescue Centre which she opened two years ago.
47 year old Thomas Brennan of Loughanore, Annagry, admitted the assault at his home on August 24th last year.
Judge Paul Kelly was told that Ms Devine received a Facebook message asking if she could assist in tracing a missing pup. One part of her search brought her and her husband to Thomas Brennan's home.
On his land she spotted a stray dog which wasn't the missing pup, and she told Mr Brennan she was going to register it at the dog pound.
Garda Fran Coyle told the court that there was then an exchange in which Brennan told her the dog was his and she wasn't going to take the animal.
Gda Coyle said Brennan went into his house and came back with a large axe and put the metal part of it to the left side of Ms Devine's neck.
He then pulled the axe back and she felt it at the side of her neck.
Gda Coyle said: "I attended the scene and I viewed the injury and I saw the blade scrape of two to three inches long on the left side of her neck."
When the axe was shown in court Ms Devine told the judge that Brennan had told her the "wee dog" was none of her business as she had come about another dog.
She added: "He has ruined everything on me. I am very nervous all the time and I don't like to go out very much."
Ms Devine said he didn't swing the axe, but he pulled it back and hit her neck.
Defence solicitor Frank Dorrian said the axe was produced after Brennan, who lives alone, locked the dog in his house. He wished to persuade the people to leave his property..
Unfortunately, Ms Devine had the bad luck to meet Brennan's "irascible character" and the axe just happened to be at hand.
Judge Kelly observed: "She must have been petrified."
He said that whatever Brennan's intent was, only terror could have been instilled in people facing him.
He adjourned the case for Probation reports to November 10 and ordered that the axe be destroyed.
He also ordered a €250 charitable donation that Brennan offered to the court to be passed on to Burtonport Animal Rescue Centre to help with its work.