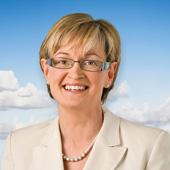 It's been claimed that Sinn Fein looks set for a major U-turn on its opposition to water charges this week according to a Fine Gael MEP.
It is claimed that a European Parliament report, authored by a Sinn Fein MEP, suggests the party is clearly calling for the application of water charges.
The claims are from MEP Mairead McGuinness, who says the text clearly indicates support for progressive water charges.
Speaking to Highland Radio News, Ms. McGuinness says in her view it indicates Sinn Fein have done a U-turn:
However, Donegal Deputy Pearse Doherty has rubbished those claims: