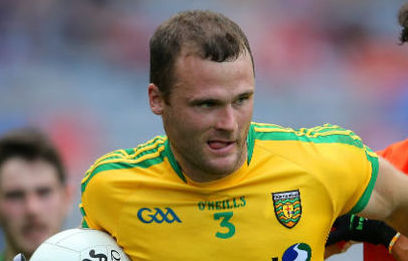 Donegal players were among the award winners at last night's Irish News Ulster All Star GAA Awards night in the City Hotel in Armagh
Monaghan's Conor McManus was named Ulster Player of the Year
Five Donegal players were named on the All Star team - Paul Durcan, Neil McGee, Ryan McHugh, Neil Gallagher and Michael Murphy
And there was a Ladies Football Merit Award for Donegal's Geraldine McLaughlin.
Tyrone's Mattie Donnelly, Peter Harte and Sean Cavanagh were also award winners.
The 2015 Irish News Ulster All Stars -
Paul Durcan (Donegal);
Vinny Corey (Monaghan), Neil McGee (Donegal), Ryan Wylie (Monaghan);
Ryan McHugh (Donegal), Dessie Mone (Monaghan), Karl O'Connell (Monaghan);
Eoin Donnelly (Fermanagh), Neil Gallagher (Donegal);
Mattie Donnelly (Tyrone), Peter Harte (Tyrone), Michael Murphy (Donegal);
Sean Cavanagh (Tyrone), Conor McManus (Monaghan), Sean Quigley (Fermanagh).